The Continuing Medical Education (CME) Committee oversees the educational program of IASLC to ensure that activities are planned and implemented in compliance with all ACCME Accreditation Requirements, including the ACCME Standards for Commercial Support℠. The CME Committee is also responsible for ensuring that IASLC's CME activities meet the requirements of the American Medical Association Physician's Recognition Award (AMA PRA).

Overview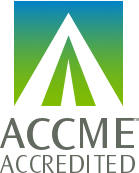 The International Association for the Study of Lung Cancer is accredited by the Accreditation Council for Continuing Medical Education (ACCME) to provide continuing medical education for physicians.
Read the IASLC CME Mission Statement here.
Primary duties of the committee include:
Authoring policies and procedures related to CME accreditation requirements.
Analyzing the overall CME Program to determine if it is meeting the goals of the IASLC CME Mission.
Reviewing financial disclosures of those in control of CME content and resolving any identified conflicts of interest.
Conducting reviews of CME content to ensure that:

CME activities promote improvements in healthcare and not a specific proprietary business interest of a commercial interest.
CME activities provide a balanced view of the therapeutic options. 
Recommendations involving clinical medicine are based on evidence that is accepted within the profession of medicine as adequate justification for their indications and contraindications in the care of patients.
Scientific research referred to, reported, or used in support or justification of a patient care recommendation conforms to the generally accepted standards of experimental design, data collection and analysis.
Chair of Committee