Meeting Overview
The clinical application of the immune checkpoint inhibitors (ICIs) that target PD-1, PD-L1, and CTLA-4 have shown significant and durable survival increases for a subset of patients with advanced NSCLC. However, the challenge in the usage of ICIs in lung cancer remains in understanding the biology of resistance, including predictive biomarkers beyond PD-L1 expression and the factors controlling either de novo or acquired resistance. Join us to discuss and present new and emerging data on immunoresistance in NSCLC! 

Exceptional Education  
Presentations will summarize information about ongoing clinical trials of the newest therapies for lung cancer including data on preclinical and early clinical data.

Connect & Collaborate
Build connections with colleagues from around the world including prominent researchers and physicians.

Present & Discuss
Showcase your research and contribute to discussions that will shape the future of treatments in lung cancer and thoracic malignancies.

Advertising, Promotion & Exhibits
Market to one of the most unique gatherings of researchers, clinicians and professionals in the field of lung cancer and                                 thoracic oncology.
Dear colleagues and friends,  
The groundbreaking results in medicine depend on basic and translational research. We invite you to join us in Brussels, Belgium on November 10-12, 2023 at the IASLC Hot Topic in Basic & Translational Science: Resistance to IO in NSCLC to discuss new and emerging data on immunoresistance in NSCLC. This Meeting is geared towards researchers, clinicians, and students with the goal of expanding knowledge of the benefits of immunotherapy to a broader population of NSCLC patients. 
We look forward to seeing you in beautiful Brussels, Belgium! 
Image
Important Dates
| | |
| --- | --- |
| Abstract Submission Opens | June 7, 2023 |
| Registration and Accommodation Booking Opens | June 7, 2023 |
| Abstract Submission Deadline | July 7, 2023 |
| Notification of Abstract Acceptance/ Rejection | August 9, 2023 |
| Early Registration Deadline | August 30, 2023 |
| Regular Registration Deadline | September 27, 2023 |
| Meeting in Brussels, Belgium | November 10 - 12, 2023 |
 Program at a Glance
Image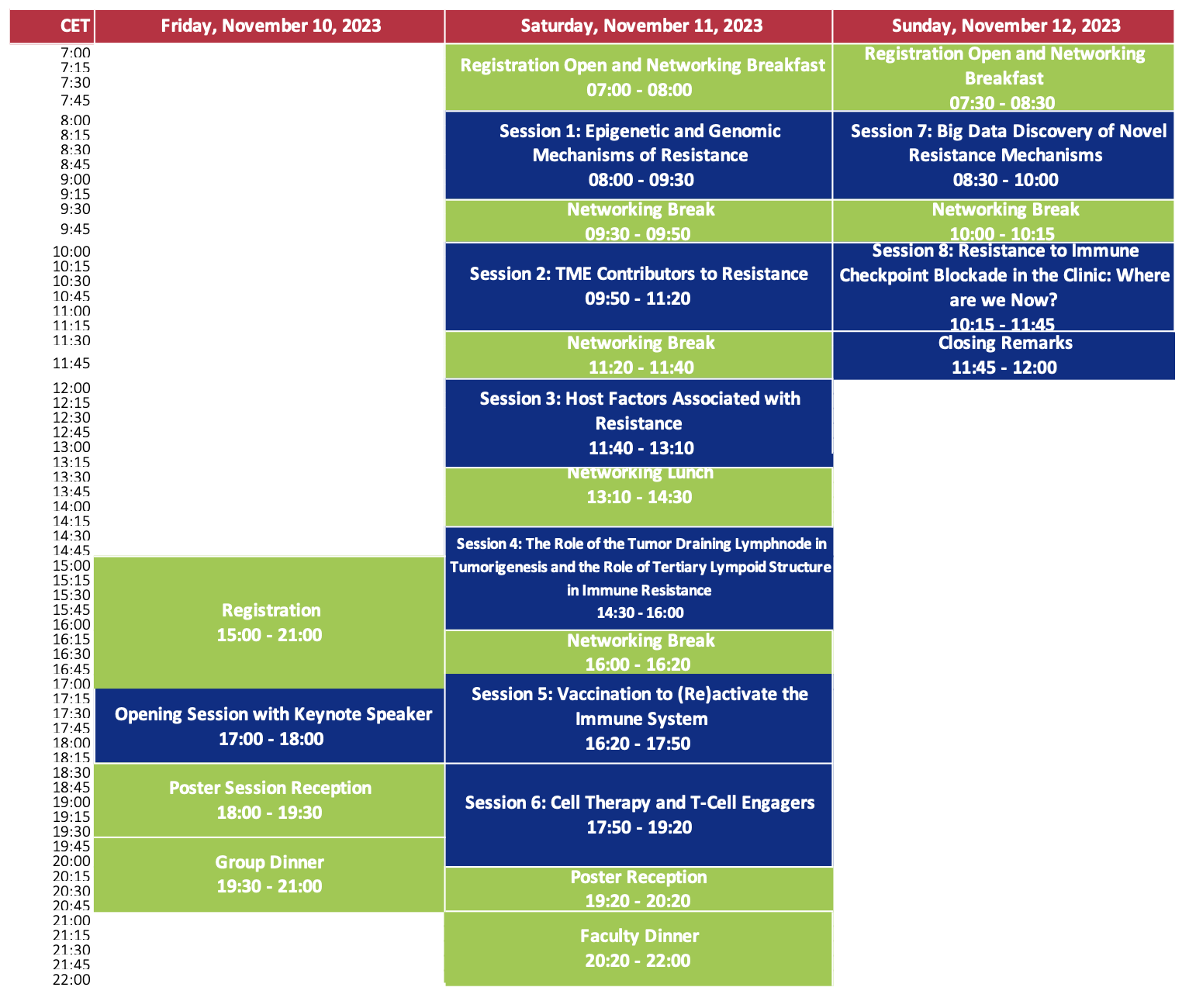 Abstract Dates and Details
| | |
| --- | --- |
| Abstract Submission Opens | June 7, 2023 |
| Abstract Submission Deadline  | July 7, 2023 |
| Notification of Abstract Acceptance/ Rejection | August 9, 2023 |
Presentation types
Oral Presentation 
Poster Presentation 
Invited Speakers
Slides must be submitted 24h prior to your presentation. There will not be a speaker-ready room. Technicians will be available in the session room for technical support.
Presenting authors must comply with the following guidelines :
Presenting author must control all content. Ineligible companies may not influence scientific content by requiring the use of company slide decks or other materials. Scientific data generated by industry-sponsored research is permissible.
The content of educational activities must be well-balanced, evidence-based, and unbiased. Generic names should be used to the extent possible.
Slides, abstracts, and handouts cannot contain advertising, QR codes, corporate logos, trade names, or product-group messages.
Acknowledgments at the close of presentations should be limited to non-commercial entities, e.g., education or research institutions, foundations, patients, other faculty, or researchers. Each presentation MUST include a financial disclosure slide.
Presenters are strongly encouraged to use the IO 2023 presentation slide template. Download the template here.
Session Chairs
Your role as chair of the session is to welcome attendees to your session, introduce the presenters and moderate the discussion at the end of the session.
Responsibilities :
Keep track of the time for each presenter (a detailed session schedule and a timer will be available on stage).
Ensure that your session starts and ends on time.
Have a few discussion points ready in case there are no questions from the audience.
Onsite info :
Biographies will be provided on paper onsite at the start of the session.
Make sure to be in your session room at least 10 minutes before your session starts.
Technicians will be available in your session room for support.
In-Person Registration 
 

Early Registration
(6/7 - 8/30)

Regular Registration
(8/31 - 9/27)

Late Registration
(9/28 - 11/10)

IASLC Member
650 USD
750 USD
850 USD
Non-IASLC Member
850 USD
950 USD
1050 USD
IASLC Member: Students, Fellow, Trainee, RN, AHP
50 USD
75 USD
100 USD
Non-IASLC Member: Students, Fellow, Trainee, RN, AHP
100 USD
125 USD
150 USD
Survivors, Carers, Advocates
0 USD
0 USD
0 USD
ON demand registration
* IO 2023 is not a live-streamed virtual event. On Demand Registration grants access to recordings of scientific sessions approximately 48 hours after the in-person sessions, along with copies of presentation slides and posters. 
| | |
| --- | --- |
| IASLC Member | 325 USD |
| Non-IASLC Member | 525 USD |
| IASLC Member: Students, Fellow, Trainee, RN, AHP | 75 USD |
| Non-IASLC Member: Students, Fellow, Trainee, RN, AHP | 125 USD |
| Survivors, Carers, Advocates | 0 USD |
Refund and Cancellation Policy
Registration cancellations received in writing before October 20, 2023, to meetings@iaslc.org will be accepted, and all fees refunded less a 50 USD administrative fee. Cancellations received on or after October 20, 2023, will not be refunded; however, transfer of your registration to another person is acceptable. This can be done by re-accessing your registration. No refunds will be made for non-attendance at the meeting.
Donations to the IASLC Foundation, LLC are non-refundable.
Plan Your Trip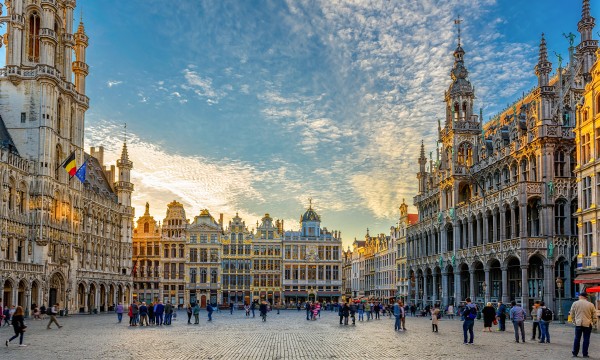 Click here to explore options for your trip to Brussels!
All sessions will take place at the Crowne Plaza Brussels Airport.
Information regarding accommodations will be provided in your registration confirmation email.
Visa Information
Please visit this website to find out if you require a visa to attend IO 2023 and view all visa FAQs.
An official Letter of Invitation to obtain a visa will be issued ONLY after registration has been completed and full payment received by the IASLC.
Promotion & Advertising Opportunities
IO 2023 offers a tremendous opportunity to market to an international gathering of researchers, clinicians, and professionals in the field of lung cancer and thoracic oncology. 

Join our growing group of IO 2023 supporters and exhibitors!
Registration and Media Requirements
Press & Media Registration
Eligibility
Journalists, including photographers, must work for the outlet for which they are credentialed (exceptions for freelance journalists are detailed below). Journalists who use their media privileges to work for non-credentialed organizations will have their privileges revoked. Journalists are required to complete the media online pre-registration form and submit the following:
A letter of assignment on the letterhead of the news organization being represented.
A photocopy of official press credentials, such as a press card issued by a recognized journalists' association or a government-sanctioned press organization. The IASLC does not recognize press cards issued by web-based organizations such as IFNM and/or a business card issued by a recognized news organization.
Freelance journalists including photographers may work for multiple publications, as long as they confirm in advance that those publications are eligible for media registration. Freelance journalists must submit the following:
A letter of assignment on the letterhead of the news organization being represented.
A recent copy of the publication (a mailed copy, link to the publication's website or a photocopy of a cover/issue published within the past 6 months).
Companies or organizations producing publications, videos, and other products intended for marketing, advertising, financial analysis, or public relations purposes may not register to attend the meeting as media. This includes any organization that intends to sell or distribute video recorded at the IO 2023 for monetary gain. Any organization filming video is required to use either the official conference backdrop or a co-branded backdrop (including the IASLC logo).
Financial analysts; sales, advertising, or marketing representatives; book publishers, and book authors may not register as media but are welcome to register as regular attendees.
Public relations personnel and individuals from communications, print, and online promotion services should register as a regular attendee (not as media).
Media are welcome to attend all general admission Scientific and Educational Sessions. These sessions may NOT be filmed or recorded for rebroadcast in any form. Ticketed sessions or those sessions requiring individual registration are not open to media.
All media representatives are required to pre-register for the meeting and must be credentialed by the IASLC before being officially registered.
 Failure to comply with these policies may result in the immediate revocation of any privileges for future IASLC events. The IASLC reserves the right to change these policies when needed without notice.  
For questions, please contact: 
Chris Martin
VP Public Relations, David James Group
CMartin@DavidJamesGroup.com
Phone: +1 630 670 2745
Jan Mazotti
Associate Director, Marketing and Communications
Jan.Mazotti@iaslc.org
DATE: November 10 - 12, 2023
LOCATION: Brussels, Belgium