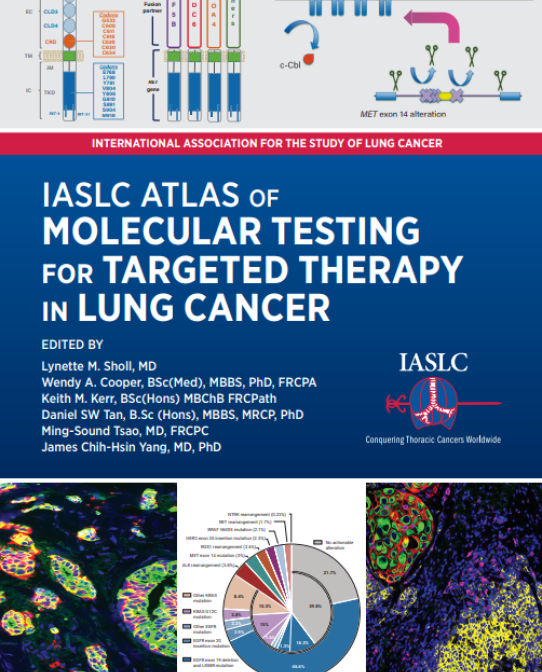 The IASLC's 2023 Molecular Testing for Targeted Therapies in Lung Cancer Atlas is now available
The IASLC's latest Atlas provides a comprehensive overview of all current and emerging molecular targets, specimen acquisition, available assays, and reporting and interpretation of molecular testing results from both a diagnostic and clinical perspective.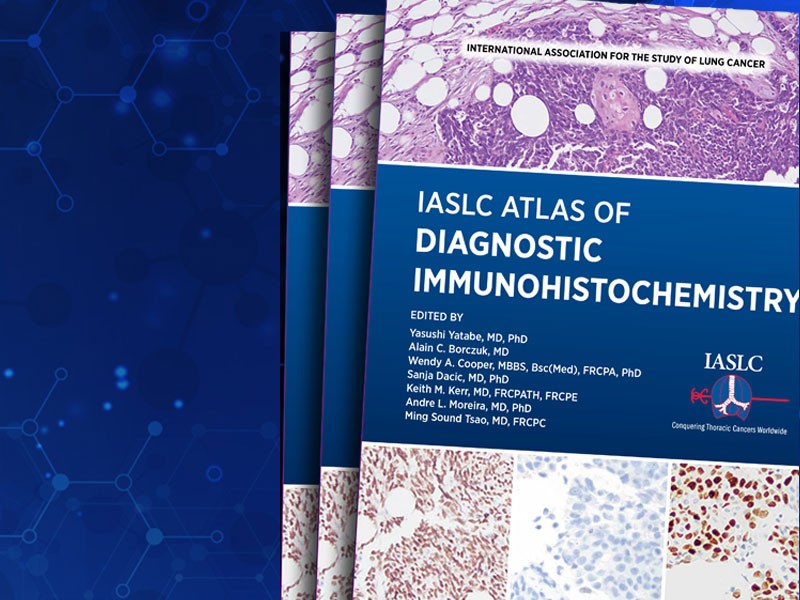 Background
The IASLC has produced several atlases dealing with a range of lung cancer biomarker testing topics, including ALK, ROS1, EGFR, and PD-L1, and an Atlas on immunohistochemistry for lung cancer diagnosis. These atlases have been extremely popular and have provided state-of-the-art, concisely presented information on clinical, pathological, and molecular testing aspects of the subject material in a user-friendly package.
Purpose
The IASLC intends to produce a comprehensive atlas covering all current and emerging targets from both a diagnostic and clinical point of view. There will be dedicated chapters for each 'marker' – EGFR, ALK, ROS1, MET, KRAS, RET, NTRK, NRG, and HER2 each written by pathologists and oncologists, covering both the therapeutic and the testing aspects relevant to each family of genomic alterations. The atlas will also cover a few broadly focused chapters covering various aspects of precision medicine in lung cancer, like specimen acquisition and handling of tumor samples, the different available assays, and interpretation of results to reporting and quality assurance. This atlas aims to serve as a comprehensive, concise, and hands-on educational resource for multidisciplinary medical professionals.
Educational Objectives
Provide pathologists with "know-how" educational information on specimen acquisition (tissue and liquid), pre-analytical conditions, and molecular testing.
Provide oncologists with the "know-why" educational information on how to interpret and potentially apply the results for a therapy where medically appropriate.
Serve as an educational tool and hands-on resource for multidisciplinary medical professionals involved in precision medicine worldwide.
Foreword from IASLC 
Introduction 
Clinical relevance of biomarker testing in lung cancer, including perspectives for community oncologists and patient advocates
Specimen acquisition and pre-analytical considerations

Tissue-based

Pulmonary perspective
Surgical perspective 
Interventional radiologist perspective 
Pathology –tissue sample (surgical, core needle) and cytology

Liquid biopsy – Specimen acquisition, testing strategies, and clinical roles

Specimen handling and processing, testing strategies 
Clinical roles 

Technologies for the detection of biomarkers 
A global perspective on molecular testing with a focus on guidelines  
EGFR 
ALK 
ROS1 
BRAF 
NTRK 
RET 
MET 
KRAS 
HER2 
NRG
Each chapter features a pathologist and medical oncologist as they explore the individual gene/target including: 
New targets and technologies 
Reporting and interpretation of biomarker testing results and role of multidisciplinary tumor board post results 
Molecular testing algorithm 
Summary and future perspectives
Thank you to our generous sponsors