The IASLC's History
In 1972, in response to the overwhelming need for collaboration and a growing concern for public health, Drs. David T. Carr, Oleg S. Selawry, Lawrence Broder, Clifton Mountain and George Higgins began building an international, multidisciplinary organization. In 1974, the group launched the International Association for the Study of Lung Cancer (IASLC) at their first formal meeting in Florence, Italy, having recruited more than 250 founding members from across the globe and with different perspectives.
Since then, the IASLC has grown into a professional, international organization of more than 8,000 members. Global experts have come to rely on the IASLC's World Conference on Lung Cancer, Journal of Thoracic Oncology, as well as on its scientific programs and educational events to inform their practice of medicine, research and patient care. From doctors, nurses and allied health professionals to scientists, patients and advocates, the IASLC continues to unite people around the goal of eradicating lung and thoracic cancers.
History of the IASLC
World Conference on Lung Cancer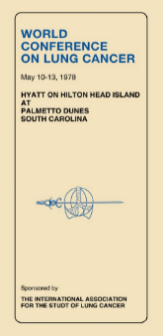 Each year, the IASLC hosts its signature event, the IASLC World Conference on Lung Cancer (WCLC). The inaugural WCLC brought together a small collection of specialists on Hilton Head Island in 1978. 
Over 40 years later, the WCLC has become the largest global event dedicated solely to lung cancer and other thoracic malignancies, attracting over 7,000 attendees from across the lung cancer community, including physicians, investigators, nurses, allied health professionals, survivors and patients.
In 2019, the IASLC held its 20th WCLC in Barcelona, Spain, drawing a record-breaking 7,750 attendees from over 100 countries. 
Through the hard work of the IASLC leadership and staff, as well as our local organizing committee, the meeting will undoubtedly serve as an invaluable resource for the continuing education of the global lung cancer community. 
For more information about this year's WCLC, please visit the WCLC website.
History of the Chief Executive Officer
In 1994 the IASLC appointed Dr. Heine H. Hanson as its Executive Director, to manage the association's operations, initiatives and staff. Under the leadership of Dr. Hanson and his successors Dr. Paul Bunn Jr., Dr. Fred R. Hirsch, Dave Mesko, and Dr. Karen Kelly the IASLC experienced growth in terms of staffing, membership, activities, and overall impact. 
History of The IASLC President
Throughout its long history, the IASLC has benefited from the strategic vision of its President. Many lung cancer luminaries have held this title since the mid-1970s when the organization was founded. Each leader has left an indelible mark, playing a fundamental role in its ongoing growth and development to ensure the IASLC remains a powerful resource in the fight against lung cancer.