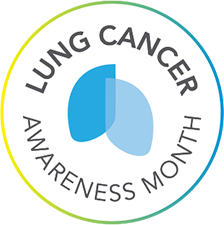 DENVER – In association with 2018's Lung Cancer Awareness Month (LCAM), an annual event that occurs each November, the Lung Cancer Awareness Month Coalition (LCAMC) has unveiled new Patient-Provider Cards, a resource to assist both lung cancer patients and providers in navigating the complex dynamics of lung cancer detection, diagnosis, advocacy and treatment.
The LCAMC Patient-Provider Cards are handy, colorful and engaging resources designed to provide to both patients and providers with introductory information on four main topics in lung cancer: screening and early detection, precision medicine, clinical trials and advocacy. The cards are also intended to promote further discussion between patient and provider, prompt supplemental research and enable informed choices to be made regarding care plans.
"The cards summarize four important topics for the lung cancer community, and they are easy to read, understand and remember - especially for patients," says Stefania Vallone, a lung cancer patient advocate and president of Lung Cancer Europe (LUCE). Ivy Elkins, lung cancer survivor, advocate, author and co-founder of EGFR Resisters Lung Cancer Patient Group, concurs regarding the cards' usefulness, stating, "These new patient-provider cards created by the LCAM Coalition are much-needed tools to spark conversations and partnerships between patients and their health care providers in the global lung cancer community."
With the field of lung cancer treatment changing at such an incredible rate, providing high-quality educational resources to both the patient and provider communities is critically important. The Patient-Provider Cards represent the next step in the LCAMC's and the International Association for the Study of Lung Cancer's (IASLC) ongoing efforts to ensure that knowledge regarding the latest advances are disseminated as widely as possible.
The LCAMC is a global coalition of 40 lung cancer advocacy organizations committed to winning the fight against lung cancer. Organized by the IASLC, the coalition has - for three consecutive years - conducted a coordinated campaign to raise awareness, dispel stigma, inspire action and ultimately improve outcomes for lung cancer patients and their families.
More information about the LCAMC can be found at the coalition's official website, in addition to a wealth of lung cancer resources, survivor stories and information on LCAM events happening throughout the world. PDFs of the new Patient-Provider Cards can be downloaded at lcam.org/cards.