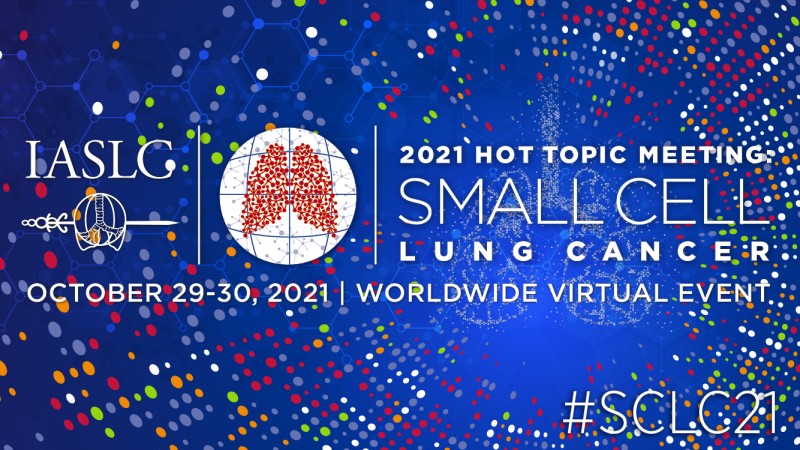 Overview
The fourth biennial IASLC Small Cell Lung Cancer Meeting will be held as a Worldwide Virtual Event in the Fall of 2021. The meeting will focus on preclinical and clinical advances in small cell lung cancer (SCLC) research, including, but not limited to, basic research on oncogenesis and biology of disease, preclinical therapeutic research, and highlights of ongoing clinical translation. From its inception, this meeting's goals have been to provide a "state-of-the-state" update on recent progress in small cell lung cancer research, to establish a forward-looking perspective on key unanswered questions in the field, and to promote research collaboration among small cell lung cancer investigators. We hope that you will join us for #SCLC21. Additional meeting information will follow soon.
Understanding and Targeting SCLC
The main hurdles to finding an effective and sustainable treatment option for SCLC include an incomplete understanding of the biology of the disease, a lack of actionable targets, and the ineffectiveness of or rapid resistance to existing therapies, including immunotherapy.
Detailed Program
All Times in ET
Opening Ceremony and Keynote 
| Presentation  | Start Time | Presenter  |
| --- | --- | --- |
| Chairs' Welcome Address  | 11:00 | Charles Rudin and Triparna Sen, Meeting Chairs  |
| IASLC President Welcome | 11:10  |  Heather Wakelee  |
| IASLC Membership: Why We Should All be IASLC Members  | 11:15  | Kelsey Wood  |
| Remembrance for Pierre Massion | 11:18  | Christine Lovly & Johathan Lehman |
| Keynote: Lessons from CDX models in SCLC | 11:23 | Caroline Dive  |
| Keynote Discussion with Q+A | 11:53 |   |
All Times in ET
Single Cell Analysis in SCLC 
| Presentation  | Start Time | Presenter |
| --- | --- | --- |
| Session Welcome |   | Caroline Dive, Session Moderator  |
| Single Cell ATLAS of SCLC | 12:22 | Joseph Chan |
| Plasticity of SCLC Subtypes: Lessons from GEMMs   | 12:34 | Trudy Oliver  |
| Translating SCLC Molecular Subtypes into Clinical Practice: Opportunities for Precision Medicine and the Challenge of Plasticity | 12:46 | Lauren Byers |
| CyTOF of SCLC models  | 12:54 | Jonathan Lehman  |
| Panel Discussion with Q&A | 1:02 |   |
All Times in ET
Omnics in SCLC
| Presentation | Start Time | Presenter |
| --- | --- | --- |
| Session Welcome |   | Trudy Oliver, Session Moderator |
| Genomic Characterization of SCLC  | 13:20 | Julie George |
| Systematic Determination of Functional Impacts of Recurrent SCLC Mutations  | 13:32 | Dominic Rothwell  |
| Recurrent WNT Pathway Alterations are Frequent in Relapsed Small-cell Lung Cancer | 13:44 | Ramaswamy Govindan |
| Multi-omic analysis of lung tumors defines pathways activated in neuroendocrine transformation | 13:56 | Triparna Sen  |
| Panel Discussion with Q&A | 14:08 |   |
All Times in ET
Biomarkers/Liquid Biopsy/Metastasis in SCLC
| Presentation  | Start Time | Presenter  |
| --- | --- | --- |
| Session Welcome  |   | Christine Lovly  |
| Small-cell Lung Cancer Brain Metastases Transcriptomics  | 14:30 | Afshin Dowlati |
| Neddylation in SCLC  | 14:42 | David MacPherson  |
| Metastasis, Liquid Biopsy, and/or Biomarkers | 14:54 |   |
| SLFN11 in SCLC | 15:06 |   |
| Panel Discussion with Q&A  | 15:18 |   |
All Times in ET
Novel Pathways and Targets in SCLC- Session 1
| Presentation  | Start Time | Presenter |
| --- | --- | --- |
| Session Welcome  |   | Lauren Byers, Session Moderator  |
| Immunogenic Radiosensitization of SCLC with DNA Repair Inhibitors | 15:40 | Ben Lok  |
| DLL3 | 15:52 | Katie Tully |
| LSD1-ZFP63L1 in SCLC | 16:04 | Matt Oser  |
| Interactions between SCLC and Neurons  | 16:16 | Humsa Venkatesh |
| Panel Discussion with Q&A | 16:28 |   |
All Times in ET
Clinical Trials in SCLC 
| Presentation  | Start Time | Presenter |
| --- | --- | --- |
| Session Welcome |   | Kristin Higgins, Session Moderator  |
| Analysis of our Investigator-initiated Phase I/II trial Studying Olaparib and Temozolomide in SCLC | 16:50 | Catherine Meador   |
| Immunotherapy in SCLC  | 17:02 | Luis Paz-Ares |
| Inflamed Subtype and its Clinical Implications  | 17:14 | Taofeek Owonikoko |
| EZH2+irinotecan Clinical Trial  | 17:26 | Victoria Lai |
| Panel Discussion with Q&A  | 17:53 |   |
All Times in ET
Closing 
| Presentation  | Start Time | Presenter |
| --- | --- | --- |
| Day 1 Closing Message  | 17:53 | Charles Rudin and Triparna Sen, Meeting Chairs  |
All Times in ET
Industry Symposium 
| Session  | Start Time  |
| --- | --- |
| October 29 Industry Symposium | 18:05  |
All Times in ET
Early Career Session (October 30) 
| Presentation  | Start Time | Presenter |
| --- | --- | --- |
| Session Welcome  |   | Ben Lok, Moderator |
| MYC Drives Temporal Evolution of Small Cell Lung Cancer Subtypes by Reprogramming Neuroendocrine Fate   | 10:00 | Abbie Ireland   |
| XPO1 as a Target for Chemoresistance in SCLC  | 10:10 | Alvaro Quintanal Villalonga  |
| Methylation  | 10:20 |  Francesca Chemi  |
| CDK7 in SCLC  | 10:30 | Hua Zhang  |
| B7-H6 Emerges as a Potential Immunotherapy Target in SCLC  | 10:40 | Portia Thomas   |
| Molecular Subtyping of SCLC CTCs   | 10:50 | Prasad Kopparapu  |
| Panel Discussion with Q&A |  11:00  |   |
All Times in ET
Welcome and Keynote 
| Presentation  | Start Time | Presenter  |
| --- | --- | --- |
| Welcome |  11:30  | Charles Rudin and Triparna Sen, Meeting Chair  |
| Keynote: Lessons from Mouse Models | 11:35 | Julien Sage |
| Keynote Discussion with Q&A | 11:55 |   |
All Times in ET
Subtypes/ Biomarkers in SCLC 
| Presentation  | Start Time | Presenter |
| --- | --- | --- |
| Session Welcome |   | Jane Johnson, Session Moderator  |
| SCLC Subgroups and Their Potential Clinical Significance   | 12:10 | Carl Gay   |
| Whole Genome Methylation Analysis of LS-SCLC Samples Reveals Distinct Subtype-Specific Patterns  | 12:22 |   |
|  Histological Subtyping of SCLC SCLC Biomarkers for Lung Cancer Screening  | 12:34 | Natasha Rekhtman |
| SCLC Biomarkers for Lung Cancer Screening  | 12:46 | Samir Hanash |
| Panel Discussion with Q&A | 12:58 |   |
All Times in ET
Novel Pathways and Targets in SCLC - Session 2 
| Presentation  | Start Time | Presenter |
| --- | --- | --- |
| Session Welcome |   | JT Poirier, Session Moderator  |
| Therapeutic Targeting of ATR Yields Durable Regressions in Small Cell Lung Cancers with High Replication Stress  | 13:20  | Anish Thomas  |
| Molecular Subtyping of Primary SCLC Tumors and the Associations between Molecular Subtypes and Therapeutic Biomarkers  | 13:32 | Haobin Chen |
| Guanosine Triphosphate Links MYC-dependent Metabolic and Ribosome Programs in Small-cell Lung Cancer | 13:44  | Ralph Deberardinis |
| Ferroptosis in SCLC | 13:56 | Siliva Von Karstedt  |
| Panel Discussion with Q&A  | 14:08  |   |
All Times in ET
Mouse Models (Xenografts and GEMMs)
| Presentation  | Start Time | Presenter |
| --- | --- | --- |
| Session Welcome  |   | Roman Thomas, Session Moderator  |
| Metastasis in SCLC | 14:30  | Arnaud Augert  |
| Chemoresistance and co Clinical Trials  | 14:42 | Ben Drapkin  |
| Uncovering Chemoradiation Resistance Mechanisms in Limited Stage SCLC using a paired PDX-PDO-ODX Platform | 14:54 | Christine Hann  |
| GEMM of LUAD to SCLC  | 15:06  | Eric Gardner |
| Panel Discussion with Q&A  | 15:18 |   |
All Times in ET
 Immunotherapy Approaches in SCLC 
| Presentation  | Start Time | Presenter  |
| --- | --- | --- |
| Session Welcome |   | Ticiana Leal, Session Moderator  |
| EZH2 in SCLC  | 15:40  | David Barbie  |
| NK cells in SCLC   | 15:52 | Kate Sutherland |
| Anti-tumor and Immunological Effects of CDK Inhibitors in SCLC  | 16:04  | Kwok Wong |
| Examining Predictors of Response to Immune Checkpoint Blockade in SCLC | 16:16  | Nitin Roper |
| Panel Discussion with Q&A  | 16:28  |   |
All Times in ET
Day Two Closing 
| Presentation  | Start Time | Presenter |
| --- | --- | --- |
| Closing Message | 16:50  | Charles Rudin and Triparna Sen, Meeting Chairs |
All Times in ET
Industry Symposium 
| Session | Start Time  |
| --- | --- |
| October 30 Industry Symposium | 17:05  |